Aims and Scope
Georgios Michail, Georgios Androutsopoulos, Panagiotis Panas, Georgios Valasoulis, Ifigenia Papadimitriou, Konstantinos Poulas, Georgios Adonakis
---

Background:
Colposcopy has a key role in the diagnostic work-up and management of abnormal cervical cytology, but it might generate negative feelings of mainly anxiety and pain to the patients undergoing such examination. These feelings are interrelated, with the anxiety fueling the painful sensations. The aim of our study was to investigate the effects of preliminary administration in terms of pain and anxiety relief that the preliminary administration of paracetamol would have on patients undergoing diagnostic colposcopy.
Materials & Methods:
We conducted a single center prospective study which enrolled 112 patients with diagnosed or suspected cervical pathology who were examined at the Outpatient Colposcopy Clinic of Patras University Hospital, over a 7-months period. Patients were randomly assigned to one of the two groups. The interventional group received 1gr of paracetamol (acematiminofen) in pill form, 30 to 60 minutes before colposcopic assessment; the control group received no medication. At the end of consultation, all participants completed a 2-page questionnaire.
Results:
More patients of the interventional arm did not experience any pain at all during colposcopy compared with the control group. However, this difference was statistically not significant, probably because of the small number of patients. Moreover, there were no differences in mild and moderate pain rates between the interventional and control groups. Severe pain was only experienced by patients in the control group. Further data analysis from the first time as and for repeat colposcopy patients showed similar findings regarding pain intensity rates in the interventional and control group. When considering anxiety levels, no differences were observed between the two groups.
Conclusion:
The preliminary administration of low dose paracetamol in a pilot sample of colposcopy patients did not illustrate significant benefits in terms of experienced pain and anxiety levels.
---
February 15, 2021
Mirko Baglivo, Elena Manara, Natale Capodicasa, Paolo Enrico Maltese, Liborio Stuppia, Sandro Michelini, Rita Compagna, Bruno Amato, Matteo Bertelli
---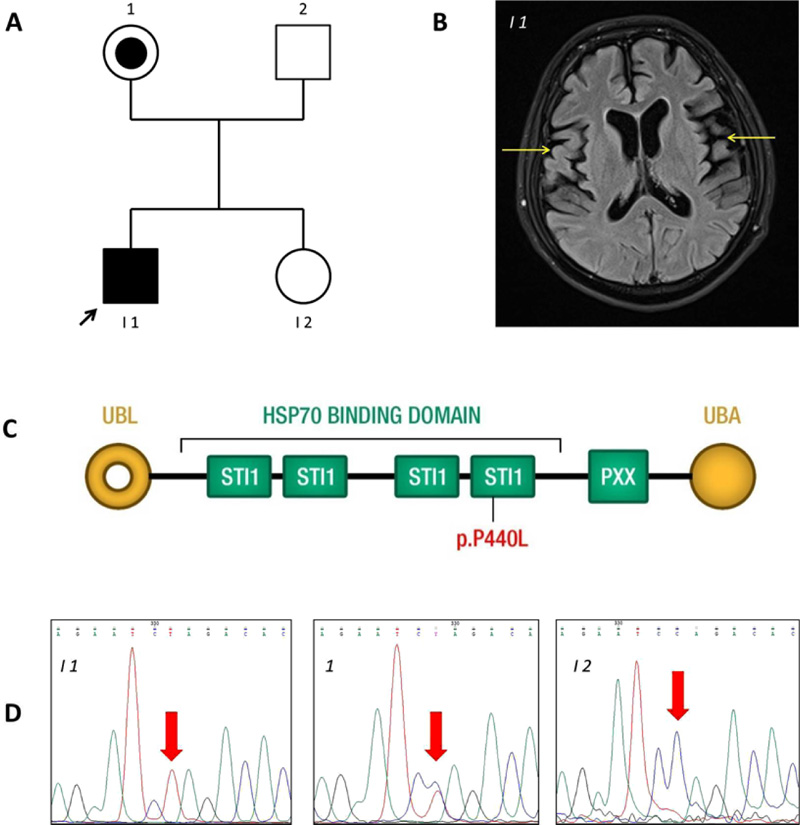 Background:
Frontotemporal Dementia (FTD) is the second most common cause of dementia under 65 years of age; it has a prevalence of 4-15 per 100,000 persons. The overt disease usually manifests in the sixth decade, and it is extremely rare to find affected patients in their twenties.
Objective:
Here, we present the clinical and molecular genetic findings of an Albanian family with a patient with early-onset FTD and Amyotrophic Lateral Sclerosis (ALS).
Methods:
Given the great variability of clinical presentation of FTD and the number of genes involved, targeted Next Generation Sequencing (NGS) was used to screen the DNA of the 27-year-old male patient. Segregation analysis was performed in available family members.
Results and Discussion:
A variant, consisting of a proline-leucine amino acid substitution in position 440, was identified in the UBQLN2 gene on the X-chromosome. This variant was previously reported as a variant of unknown significance in a 30-year-old female patient with amyotrophic lateral sclerosis. With the description of our case, we add evidence on its involvement, also in ALS-FTD. The variant is in a functional domain important for interaction with HSP70 and this, in turn, may impair the shuttling of proteins to the proteasome leading to an accumulation of protein aggregates. The variant was inherited from the unaffected mother, in line with the fact that incomplete penetrance has been widely described for this gene.
Conclusion:
The present report adds information regarding one of 34 variants in the UBQLN2 gene reported so far in association with neurodegeneration and proposes a molecular pathogenesis of ALS-FTD in this patient.
---
August 25, 2020